OneShare Health understands that you might have concerns as confirmed cases of the coronavirus (COVID-19) continue to rise in the United States. These may be stressful times, but we want to put your mind at ease and remind you that we are here with you, praying for you, and supporting you with any questions or needs you may have.
In order to help you make the most informed decisions when it comes to your health and safety, we have put together some resources and advice recommended by the world's top infectious disease experts, such as the CDC and the WHO:
CDC recommendations, symptoms, and other information are updated as of December 14, 2020
Coronavirus Alert: COVID-19 Vaccine
Safety Is a Top Priority

The U.S. vaccine safety system ensures that all vaccines are as safe as possible. Learn more about the COVID-19 vaccine and more on the CDC's website here.
Cases are Rising
COVID-19 cases, hospitalizations, and deaths across the United States are rising. As cold weather moves in, people spend more time indoors, and the holidays approach, take steps to slow the spread of COVID-19. Wear a mask, stay at least 6 feet apart, avoid crowds, and wash your hands often. The more steps you take, the more you are protected against COVID-19. View Cases in the U.S. and your state on the data tracker.
What is the coronavirus (COVID-19)?
COVID-19 is caused by a coronavirus called SARS-CoV-2. Coronaviruses are a large family of viruses that are common in people and many different species of animals, including camels, cattle, cats, and bats. Rarely, animal coronaviruses can infect people and then spread between people. This occurred with MERS-CoV and SARS-CoV, and now with the virus that causes COVID-19.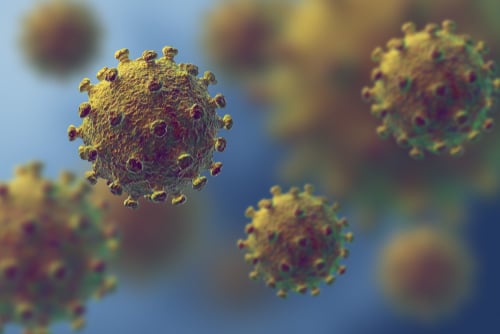 How does it spread?
The best way to prevent illness is to avoid being exposed to this virus.
The virus that causes COVID-19 is thought to spread mainly from person to person, mainly through respiratory droplets produced when an infected person coughs or sneezes. These droplets can land in the mouths or noses of people who are nearby or possibly be inhaled into the lungs. Spread is more likely when people are in close contact with one another (within about 6 feet).
COVID-19 seems to be spreading easily and sustainably in the community ("community spread") in many affected geographic areas. Community spread means people have been infected with the virus in an area, including some who are not sure how or where they became infected.
Remember, COVID-19 may be spread by people who are not showing symptoms.
Learn what is known about the spread of newly emerged coronaviruses.
What are the symptoms?
Reported illnesses have ranged from mild symptoms to severe illness and death for confirmed coronavirus disease 2019 (COVID-19) cases.
Symptoms may appear 2-14 days after exposure to the virus. People with these symptoms may have COVID-19:
Fever or chills
Cough
Shortness of breath or difficulty breathing
Fatigue
Muscle or body aches
Headache
New loss of taste or smell
Sore throat
Congestion or runny nose
Nausea or vomiting
Diarrhea
This list does not include all possible symptoms. CDC will continue to update this list as we learn more about COVID-19.
This page compares COVID-19 and flu, given the best available information to date.
Children have similar symptoms to adults and generally have mild illness.
Anyone can have mild to severe symptoms.
Older adults and people who have severe underlying medical conditions like heart or lung disease or diabetes seem to be at higher risk for developing more serious complications from COVID-19 illness.
Be alert for symptoms.
Watch for fever, cough, shortness of breath, or
other symptoms
of COVID-19.
Especially important if you are

running essential errands, going into the office or workplace, and in settings where it may be difficult to keep a

physical distance of 6 feet.
Take your temperature

if symptoms develop.

Don't take your temperature within 30 minutes of exercising or after taking medications that could lower your temperature, like acetaminophen.

Follow

CDC guidance if symptoms develop.
Protect Your Health This Flu Season
It's likely that flu viruses and the virus that causes COVID-19 will both spread this fall and winter. Healthcare systems could be overwhelmed treating both patients with flu and patients with COVID-19. This means getting a flu vaccine during 2020-2021 is more important than ever.

While getting a flu vaccine will not protect against COVID-19 there are many important benefits, such as:
Flu vaccines have been shown to reduce the risk of flu illness, hospitalization, and death.
Getting a flu vaccine can also save healthcare resources for the care of patients with COVID-19.
What is the difference between Influenza (Flu) and COVID-19?
Influenza (Flu) and COVID-19 are both contagious respiratory illnesses, but they are caused by different viruses. COVID-19 is caused by infection with a new coronavirus (called SARS-CoV-2) and flu is caused by infection with influenza viruses. Because some of the symptoms of flu and COVID-19 are similar, it may be hard to tell the difference between them based on symptoms alone, and testing may be needed to help confirm a diagnosis. Flu and COVID-19 share many characteristics, but there are some key differences between the two.
While more is learned every day, there is still a lot that is unknown about COVID-19 and the virus that causes it. This page compares COVID-19 and flu, given the best available information to date.
When using any type of transportation, follow these general principles:
Practice hand hygiene and respiratory etiquette.
Before you leave,

wash your hands

with soap and water for at least 20 seconds or use hand sanitizer with at least 60% alcohol.
Once you reach your destination,

wash your hands again

with soap and water for at least 20 seconds or use hand sanitizer with at least 60% alcohol as soon as possible upon arrival.
Avoid touching your eyes, nose, and mouth with unwashed hands.
Cover your coughs and sneezes with a tissue or use the inside of your elbow. Throw used tissues in the trash and wash your hands immediately with soap and water for at least 20 seconds or use hand sanitizer with at least 60% alcohol.
Practice social distancing.
Try to keep at least 6 feet (2 meters) from people who are not in your household — for example, when you are waiting at a bus station or selecting seats on a train.
Wear cloth face coverings.
Wear a cloth face covering when physical distancing is difficult.
Do NOT use a facemask meant for a healthcare worker.
Continue to keep about 6 feet between yourself and others. The cloth face cover is not a substitute for social distancing.
Note: Cloth face coverings should not be placed on:
Babies and children younger than 2 years old
Anyone who has trouble breathing or is unconscious
Anyone who is incapacitated or otherwise unable to remove the cloth face covering without assistance
Cloth face coverings are meant to protect other people in case the wearer is unknowingly infected but does not have symptoms.
If you develop emergency warning signs for COVID-19 get medical attention immediately. Emergency warning signs include*:
Trouble breathing
Persistent pain or pressure in the chest
New confusion or inability to arouse
Bluish lips or face
*This list is not all-inclusive. Please consult your medical provider for any other symptoms that are severe or concerning.
Call 911 or call ahead to your local emergency facility: Notify the operator that you are seeking care for someone who has or may have COVID-19.
I'm a Member, What Should I Do if I am Ill?
If you or an enrolled family member are feeling ill and are experiencing non-emergency symptoms, we encourage you to call the Telemedicine number provided on your ID card or in your Membership Guide. Allow them to put your mind at ease and guide you back to health as quickly as possible.
All of our Members have access to Telemedicine, with a 100% Shared Consult Fee. You can talk with a physician 24 hours a day, 7 days a week.